join the biggest team on campus
Your SU employs around 800 students every year to work in all of the departments we have. There's a role for everyone; from Digital Communications Assistant to Venues Staff, Bakery Assistant to Finance Assistant and everything in-between!
Whether you're looking to beef up you CV with real experience, earn a great wage alongside your studies or make new friends, working with us is a great thing to do during your time at UEA. Want to know more? Then get scrolling…
When we have roles available, they'll be shown on this page - if there isn't anything, then there isn't anything open at the moment.
Working while you study is a great source of extra income to help with your accommodation and living expenses – but we offer so much more than just somewhere to earn money as a member of our student staff team.
We employ over 700 members of student staff every year, and in return for the hours worked, we can offer training and development, great opportunities you can't get anywhere else and chances to really shape how we work as a business, as an advocate, and as a union for UEA students. As well as this, we offer flexible hours tailored around your timetable, and we pay the Living Wage Foundation rate of pay – at the moment, this is a whopping £9.00 per hour, plus an additional 12.07% holiday pay on top!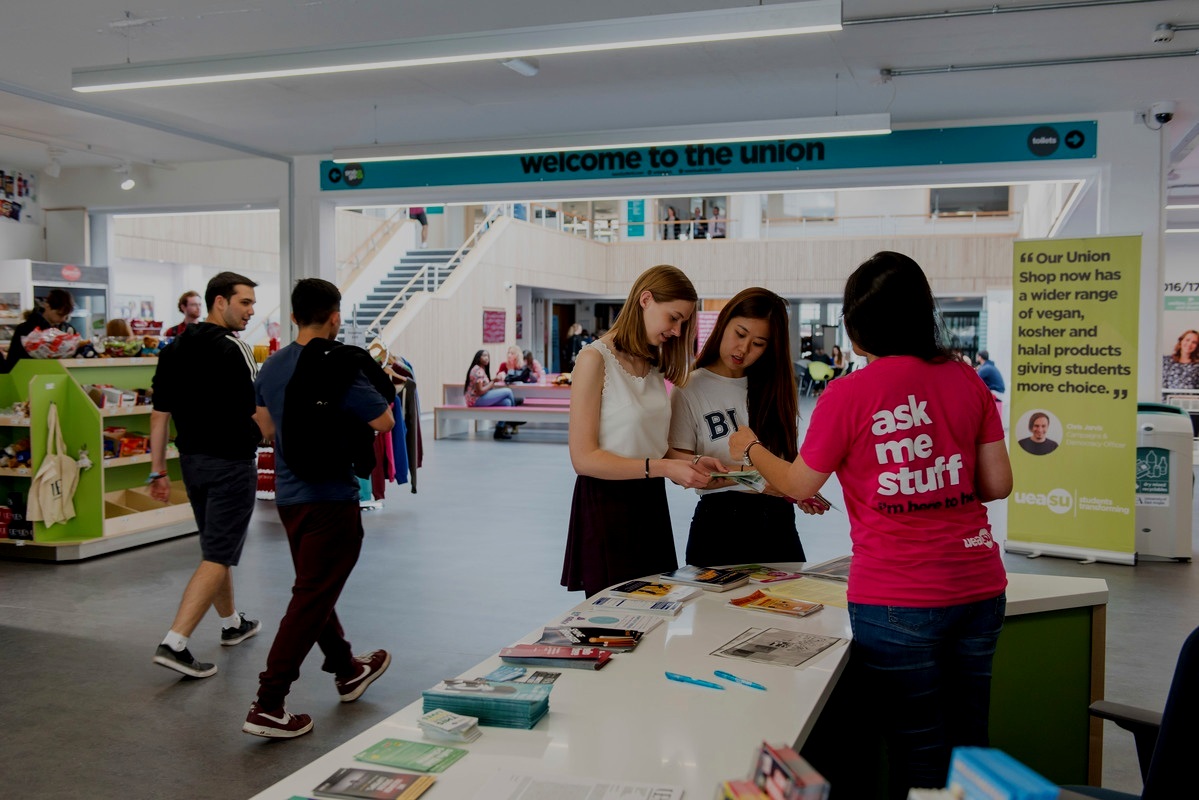 the important bits you need to know
your application
Please note that we do not need a CV or covering letter, and we won't consider them as part of your application as we can't judge them fairly. Instead, we ask you specific questions for the role, and we'll judge your response based on this.
your role
From January 2019, you will only be able to take up one role with the Union. This is so we can properly monitor your hours, as we cannot provide more than 15 hours of work per week during term-time so you still have time for your academic studies – after all, your degree is why you're a member of the SU!
your contract and conditions
If you're successful as part of the process, you will be offered a fixed-term, zero-hour contract. While we recognise that broadly zero-hour contracts can be problematic for staff working for bad employers, we use these contracts to be as flexible as we can possibly be to fit around your timetable.
This means that some weeks you may have a lot of shifts, and some weeks you might not have as many (or any) hours of work, as you are employed subject to the needs of the business. Similarly, if you're offered work but don't have the time to take it, you can choose not to work and that's absolutely okay – so no rushing to get your coursework done! If you do accept work and later decide you don't want to work that shift however, it will be your responsibility to swap it with a colleague.
your status
It's important to know your status in the workplace, and for the type of work you will be doing with uea(su), your status is as a worker. It is anticipated this will be for the length of time you are an enrolled, current student with UEA. When you cease to be a current student with the university, you will no longer be eligible for a student staff role, and we'll have to terminate your contract.
your work
Departments will individually organise and offer training for your role, and your line manager will be in contact to make the necessary arrangements.
vacancies
graduate centre bar staff
salary: £9.00 per hour plus 12.07% holiday pay
hours: 15 hours per week
reports to: graduate centre manager
interview date: 4th and 5th september (skype interviews available if necessary)
induction date: 18th september
We're looking for new enthusiastic members to join our dedicated team working in Scholars, the Graduate Centre Bar. The Graduate Centre is a space on campus specifically for postgraduate students, and this role would be based in Scholars, serving customers and ensuring the spaces belonging to the Graduate Centre are clean, tidy and fit for use.
We're looking for candidates who are responsible, great communicators, and people who know about both the union and the postgraduate experience.
Please note that we will not consider CV's and Cover Letters, so do not submit these with your application.
any questions?
Drop our HR team an email at union.hr@uea.ac.uk, and they'll be in touch with you within five working days.